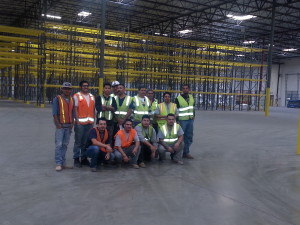 Star Rack Inc. provides complete installation needs for storage. We specialize in pallet rack , pick modules , drive-in, mezzanines , shelving , and various other Material Handling storage systems. With over 20 years of  industry experience, we guarantee our knowledge , energy and unmatched customer care service for your Material Handling solution.
Star Rack Inc. has qualified and experienced staff to fulfill all tasks of installation, removal or relocation of all types of racks ,
There is no small too small or to big rest assure we'll handle it.
push- back modules
overhangs
pallet flow
conveyors
mezzanines
wire cages.(etc.)
Star Rack Inc. has staff who are led by experienced installers and coordinators who will handle all the details and daily management to ensure that each project will be finished efficiently , cost effectively and exactly as it was designed to work.
Here you will find some examples of our latest projects here just to mention a few:
We assure you that Star Rack Inc. will meet your expectations.